Chef Chris Harrod, who is currently competing in televised BBC2 chef competition, Great British Menu and will appear in the finals from 8th October is delighted by the news that The Whitebrook retained a star, especially as we celebrate The Whitebrook's fifth birthday on the 2nd October. The team at The Whitebrook work long and tiring hours so to be recognised for that by Michelin is a always a huge boost. We are also very grateful to the loyal customers who have supported us, since we opened in 2013.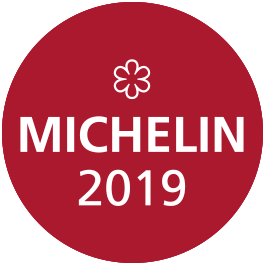 Last month The Whitebrook received further recognition as one of Top 50 UK Restaurants in the country in the The Good Food Guide by Waitrose & Partners with an excellent score of 7/10 demonstrating a 'high level of ambition and individuality' and 'attention to the smallest detail' as well as showcasing 'accurate and vibrant dishes'
Chris, who trained with Raymond Blanc at two Michelin star Le Manoir aux Quat'Saisons has also secured a place in the finals of Great British Menu - he will represent Wales when he returns to the show on 8th October to compete for a chance to cook at the banquet.
Every dish served at The Whitebrook, from breakfast through to dinner, boasts locally sourced, often home grown and foraged ingredients. Set in the blissfully peaceful Wye Valley in the heart of the Forest of Dean, it is a magical haven with eight guest bedrooms making it the ideal gastronomic rural retreat.Lead in rates at The Whitebrook start from £265 for dinner, bed & breakfast. Lunch is priced at £39 for three courses, £52 for a five course tasting menu and £87 including wines. The dinner tasting menu is £82 for seven courses or £137 including wines.

Related Posts
We are pleased to announce that we have been included in The Good Food Guide 2015.
The Crown at Whitebrook will be changing our name to The Whitebrook - restaurant with rooms.
The Great British Chefs feature gives a fascinating insight into the abundance of wild and wonderful produce which finds its way into Chris' cooking. Plus don't miss chef Chris Harrod demonstrating at the Abergavenny Food Festival
The Whitebrook Newsletter
Submit your email below for regular updates on news, events and offers at The Whitebrook.